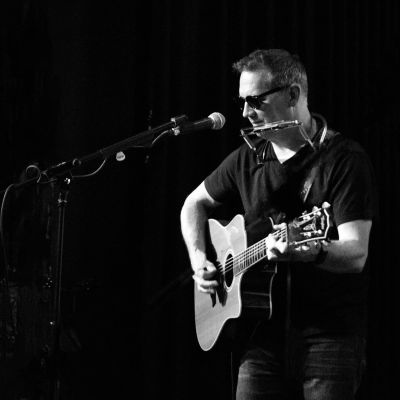 About
Yes, my name is Stephen King. The horror! :) Based in Calgary since 1988, originally from the Maritimes. I play in a variety of venues & configurations. As a solo singer/songwriter, I try to play a mixture of original/cover tunes ... depending on gig and how the audience flows ... in a variety of musical genres and styles. I've played guitar and performed on-and-off for over 30 years. Having studied so many different musical styles for so long, it's all kinda of morphed and squished together in my current playing approach. I continue to be humbled by the journey of music! On any given night you'll see me playing acoustic guitar, harmonica, one string diddley bow, ukelele, Fender strat, dobro, Gibson es-175td, and even a guitar synth etc... depending on the feelz. As a multi-instrumentalist, I also play bass, drums, a bit of keyboards/accordian and stretching into stringed instruments like the Charango. I've also have 6 self-produced CD's from about 25 years of recording ... 100% solo efforts in different types of studios I cobbled together over the years. https://store.cdbaby.com/Artist/StephenKing. In the duo "SteveSteve," #stevesteve it's all about the "Strings and Skins" ... I team up with beatster Stephen Nykolyn who has been drumming since he was a fetus. First discovered in his teens in Ontario, he toured as an underage blues drummer, and has played in many bands since, as well as guest recorded a number of albums. Slick sick seventies beats. In the "power trio" SARAH'S LAST DAY, #sarahslastday we try to play a sonic, grinding, psychedelic experience. Here's more: "Hailing from Calgary, the band plays a musical cocktail of original music from lead guitarist/singer Stephen King's 6 CDs, along with varied covers from Wilco, Josh Rouse, Neil Young, Rihanna, Hendrix, Killers, Black Keys, Rancid, Bob Dyan, SRV, Ryan Adams, Nirvana, Beck amongst many others … all of which Sarah's Last Day molds to their own inimitable style. Closest style could be described as Indie-Alt-Country-Acoustic-Roots-Jazz-Blues-Rock. Never playing sets or songs the same way twice — sonic exploration can be found in the tenderest of songs. Bass player Shaun King, is also a multi-instrumentalist; bass, mandolin, guitar, vocals, cajone, drums -- and an accomplished mixer -- he's has spent the last few years gigging as "DJ Phillip Ontako," serving up massive flutter wows and trap beats across Canada. Where did "SARAH'S LAST DAY" band name come from? It reflects current mood, political and economic uncertainty, where many people are facing the despair and opportunity of change. Searching #sarahlastday on social media, one will find many such Sarah's at critical junctures of their lives ... getting a new job, moving to a new city, last day of cancer treatment ... hanging in a suspension of change that can reflect all sorts of things all at the same time; loss, hope, nostalgia, promise, happiness, reflection, sadness, sometimes anger. All leading to some type of inevitable resolution and conclusion. This "suspension of change" is more or less the well I draw from as an artist and in my daily life ... from chaos comes creativity ... if you let it. @stephdokin
Highlights
Music type:
Original Music
What this Artist plays most of the time
Genre:
Alternative
Americana
Bluegrass
Blues
Classical
Country
Folk
Jazz
Rock
Roots
Singer/Songwriter
Appeals most (but not limited) to:
All ages seem to enjoy hanging out when we're playing ... sometimes lots of sing-a-longs too. Typical audience that I/we could draw in to a gig would specifically be ages 30 - 60.
Top Stages Played *
The Cellar / Wine-oh's
2016/09
Gravity Espressor Bar and Cafe
2017/12
* Unverified
Activity
Events booked with Stagehand
1
Availability
I don't stray too far from Calgary, frankly, and can play pretty well any date, evening or day, so no constraints there. My most-oft travelled places include Vancouver, Edmonton and Seattle.
Upcoming Events
No upcoming events