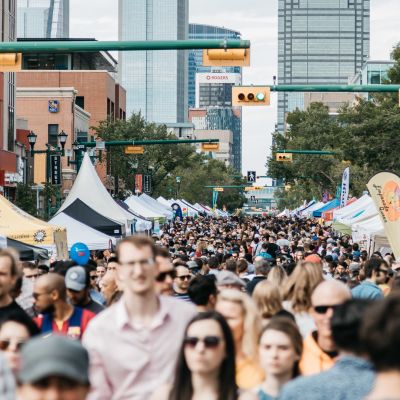 About
Application deadline: January 31st, 2019 This free one day event is the start up to Calgary's vibrant festival season, and encourages attendees to shake off the winter blues and reintroduce themselves to the thriving creative community in our city. The festival is held on 4th Street SW between 13th Avenue and Elbow Drive, on the first Sunday in June from 10:00 am - 6:00 pm. The festival hosts over 40 musical acts on 5 live music stages and often sees attendance exceeding 100,000 throughout the day. Sunday June 2, 2019 will mark the festival's 30th Anniversary.
Highlights
Supported arts:
Live Music
Supported music types:
Original Music
In-House sound available:
Yes
Special event liquor license allowed:
Yes
Description
Stage
12 x 12 covered stage, 2 feet in height
Room
The festival is a free outdoor event.
Audio/Visual
• ONE 12ft x 12ft tented stage • Shared use with sponsor of one 8x2 foot banquet table for artists merchandise sales • 1 SOUND TECH • 1 - 16 CHANNEL MIXING BOARD • 3 MONITORS • 2 MIXES FOR MONITORS • 2 – 15" MAINS and 2 – 18" SUBS • 4 MICS SURE SM 58 • 4 MICS SURE SM 57 • 1 MIC SHURE BETA 52 for KICK DRUM • 2 DI BOXES • 2 POWER OUTLETS • 6 MIC STANDS
Activity
Events booked with Stagehand
0
Availability
Availability:
Typical Event Schedule:
Festival date is June 2nd, 2019. Application deadline for bands is January 31st. 2019. Apply today!
Upcoming Events
No upcoming events
Location
Elbow Dr SW, Calgary, AB, Canada