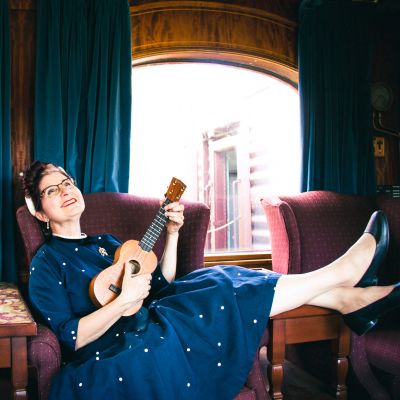 About
"Stellar vocals, compelling songwriting and a dramatic and engaging stage presence." Vic Bell, Artistic Director, Nickelodeon Music Club
With her uplifting mix of early jazz, swing, roots, and 50s pop, Beth Portman brightens the greyest of skies. A dynamic vocalist, ukulele player and songwriter; Beth expands her solo performances by incorporating layers of harmonies and percussion recorded live and pre-recorded on her looper station (neatly stored in a picnic basket). She builds beat tracks using items such as suitcases, hat boxes, beaded purses and even her red shoes, transforming her vintage-vibe sound into a one-of-a-kind experience that's playful, fresh and in the moment. Beth delivers songs and smiles through her YouTube channel, BethPortmanSings. Her 2021 pandemic challenge: 52 song videos in a year helped shape the sound of her latest solo album, Great Great Day, released this Spring 2022. Since 2020 Beth has been performing her family outdoor picnic-themed concert for community leagues, lawn concerts, and festivals. Both album and concert harken back to simpler times, capturing the carefree joy of summer.  For Portman's solo performances she includes her 'luggage looper' into the mix to record and build rhythmic layers using her suitcases and their contents. The added percussion enriches her original and standard songs, vocals, ukulele and guitar work. It's a contemporary twist on her vintage vibe sound that's creative, playful and in the moment. For 2020 Portman created a curbside concert called Under the Blue Skies. Performed on a picnic blanket along with her 'basket looper', Portman entertains all ages bringing her vintage-inspired music to communities.
Highlights
Music type:
Original Music
What this Artist plays most of the time
Appeals most (but not limited) to:
Primary demographic is age 40+ but appeals to all ages, including children and lovers of the vintage sound. Suitable for for intimate venues, music clubs, festivals and soft seat theatres.
Top Venues Performed/Exhibited *
New Moon Folk Club
2023/02
The Blue Chair Cafe
2022/05
Battle River Train Excusions
2022/06
* Unverified
Activity
Events booked with Stagehand
40
Availability
Availability is open for 2023-24 but will depend on dates requested.