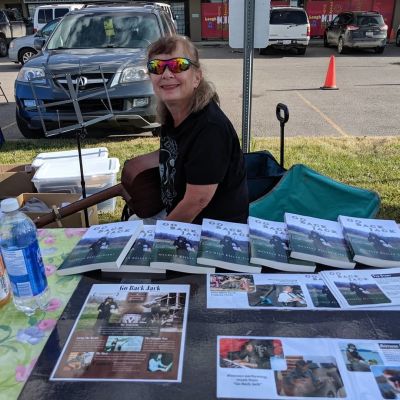 About
Maureen Kellar-Kirby is a musician, song-writer and published author of the book "Go Back Jack" which contains many of the original song lyrics that she performs, mostly New Orleans type blues.
Maureen Kellar-Kirby, song writer, keyboard musician and guitar player, now primarily an LRT busker. (Somehow trains and the blues seem to go together!) Music has been a life long pursuit for her beginning in the 1960's with piano recitals as a child in Ontario. In 1973 she flew to California where she sat in with the band Point Blank in San Francisco enjoying long talks with musician Billy Moon about his old friend Jimi Hendrix. Daniel Lanois, who later became music producer of the band U2, helped her to record some of her original songs in 1974 in his first recording studio in Ancaster, Ontario. That same year she won admission to a series of BMI Lehman Engel Musical Theatre workshops in Toronto based on one of her songs that she had entered in a contest. During the 1980's and 1990's she was thrilled to meet the legendary bluesman Eric Burdon at a Calgary nightclub, discuss music with blues icon Buddy Guy, jam with visiting Chicago blues musicians at the legendary King Edward Hotel (Philip Walker, Sam Lay and B.B. Jones) and had the opportunity to play keyboards in various local bands (Tracker, Jailhouse R&R, Sundowners) while also using guitar to entertain children in her career as an E.C.E. teacher. Since then she has recorded more originals at E K Sound Studios and with Kuba Suttles at Bowtown Music Studios in Calgary, written and pitched movie scripts in L.A., became a published author and enjoyed busking locally in Calgary. Hopes and wishes for the future - to sell the movie script and soundtrack combo - "Go Back Jack", the Jimi Hendrix story - "The Marshmallow Box" and/or the comedy script "Idiot House". Achieved Quarter-Finalist with Page Awards Screenwriting Contest in Los Angeles in 2019.
Highlights
Music type:
Original Music
What this Artist plays most of the time
Genre:
Blues
Classic Rock
Singer/Songwriter
Home base:
Calgary, Alberta
Appeals most (but not limited) to:
Blues lovers, from Billie Holiday to boogie-woogie, 60's & 70's rock & folk, original "Hendrix type astral music.
Top Stages Played *
Stephen Ave. Live - National Bank Stage
2019/06
Robert McClure Farmer's Market
2019/07
Mikey's - Road to Memphis Blues Challenge
2019/10
* Unverified
Activity
Events booked with Stagehand
5
Upcoming Events
No upcoming events
Availability
Available to book in Calgary