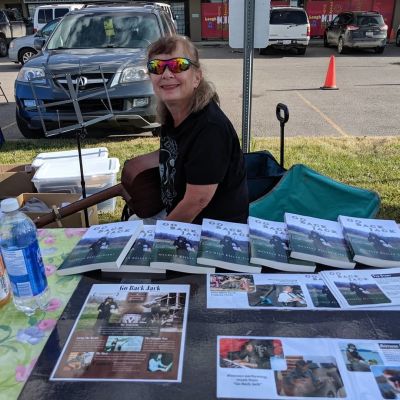 About
Maureen Kellar-Kirby is a musician, song-writer and published author of the book "Go Back Jack" which contains many of the original song lyrics that she performs, mostly New Orleans type blues.
Maureen Kellar-Kirby, song writer, keyboard musician and guitar player is now primarily a busker and she also uses her music with young children in her job as a part-time substitute teacher for the CCSD. Music has been a life long involvement starting with piano lessons in childhood but during the early 70's she sat in with the band Point Blank and musician Billy Moon who knew Jimi Hendrix in San Francisco and wrote and recorded original blues with music producer Daniel Lanois in Ancaster, Ontario. During the 1980's she performed in local Calgary bands in and around town including nightclubs "Garry's Country Inn", "Panchos" and "The Legion" downtown among many and attended jam sessions at the old "King Eddy". In the 1990's and 2000's she continued to record originals at EK Sound Studios and Bow Town Music Studios but developed a new talent in movie scriptwriting and music soundtracks and placed in the Quarter Finals with Page Awards in Los Angeles in 2019 and 2021. In 2019 she participated in the "Road to Memphis Blues Challenge" at Mikey's nightclub in Calgary as a keyboard player - singer against fellow musician Deb Powers. In 2018 her first book "Go Back Jack" was published and it is the music mentioned in this book that she plays in public. In the past dozen years she began busking in Calgary as an LRT busker and Stagehand performer sometimes in tandem with friend Yvonne Duncan and also performed at the Robert McClure Market in 2019. She now also sits in weekly with a local music group in Calgary developing versatile skills in playing drums and bass and vocals as well as guitar and keyboards. She continues to write and record original blues and her first children's picture book is due to be published in 2021.
Highlights
Music type:
Original Music
What this Artist plays most of the time
Genre:
Blues
Classic Rock
Singer/Songwriter
Home base:
Calgary, Alberta
Appeals most (but not limited) to:
Blues lovers, from Billie Holiday to boogie-woogie, 60's & 70's rock & folk, original "Hendrix type astral music.
Top Venues Performed/Exhibited *
Stephen Ave. Live - National Bank Stage
2019/06
Robert McClure Farmer's Market
2019/07
Mikey's - Road to Memphis Blues Challenge
2019/10
* Unverified
Activity
Events booked with Stagehand
6
Upcoming Events
No upcoming events
Availability
Available to book in Calgary