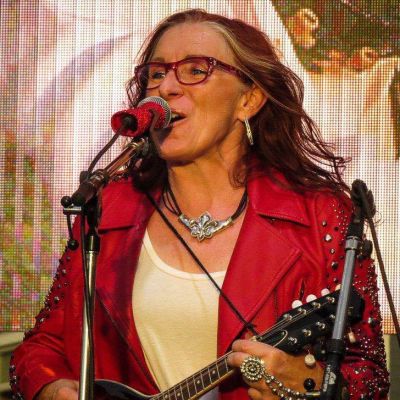 About
Bilingual, Singer / Songwriter Country / Cajun / Roots / Americana. High caliber personable, entertainer in live performance or on film or radio!
Crystal Plamondon; Canada's Cajun Cowgirl is a talented bilingual singer, songwriter, actor, performer and producer with a thirty-two year track record of consistently delivering passionate concerts that cover an emotional range from heart-warming ballads to rockin' country, roots and cajun / zydeco. Whether she is with her band or covering classic jazz and Edith Piaf in her TORCH act, Crystal never fails to connect with her audience and electrify! People drive from miles around just to catch one of her shows because of Crystal's warmth and wit and rapport with her audience. She has gained great respect from her public, peers and media for her open and honest nature.   Crystal Plamondon has toured extensively, bringing her music to intimate venues, theatres, and festivals in North America, Europe and Africa.  She has received numerous recognitions, accolades, awards and nominations. She has appeared in many radio and television specials; as well as acting in film;  and in live theatre across Canada.     A singer, song-writer, producer and actor of great talent she has produced seven albums, and many other recordings for compilation albums in French and in English. Crystal has also produced and sang three songs for the CBC hit television series "Heartland" in season two, three and four. "Forever More" Heartland Season 2, Episode 210 - True Enough CBC TV 2008 Producer "Only Dreaming" Heartland Season 3, Episode 303 - Man's Best Friend CBC TV 2009 Producer "The Bridge" Heartland Season 4, Episode 412 - The Lost Song CBC TV 2010 Producer "Saving The Best For Last" Season 5, Episode 506 - The Slippery Slope CBC TV 2011 Producer In 2010 she realized a dream by releasing a bilingual smooth jazz album of  classic pop and jazz covers as well as Edith Piaf songs, titled "TORCH!" In 2011 for Season 5 of CBC's "Heartland" you heard Crystal and one of her own songs on episode 6, "Saving The Best For Last" off her fifth album "On a Song & a Prayer". She released her 7th album of original material and a few heart warming covers called, "Half Gospel, Half Heartbreak" in the fall of 2015. Produced by Crystal and band mate Gord Matthews. When she is not entertaining us with her "joie de vivre" live, on television, or film she is writing at her home in the northern Alberta town that bears her name, "Plamondon" founded in 1908 by her Franco-Amercian Great Grand Father living with her dogs, cats and horses.
Highlights
Music type:
Original Music
What this Artist plays most of the time
Genre:
Singer/Songwriter
Americana
Roots
Appeals most (but not limited) to:
Appeals to everyone!!! Exceptional Performer!
Top Venues Performed/Exhibited *
Main Stage Canada 150 Celebrations - Calgary, AB
2017/07
Farmfest-Terreferm - Williowbunch, SK
2019/07
Fete Franco-Albertaine - Nordegg, AB
2019/07
* Unverified
Activity
Events booked with Stagehand
0
Upcoming Events
No upcoming events