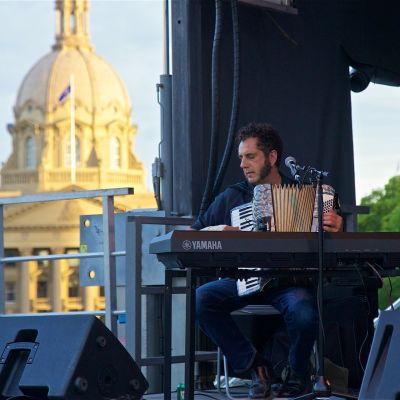 About
Jason Kodie is a versatile performer performing a mix of French and English original music. With an accordion and piano, his shows are splashed with infectious humour and humility.
Jason Kodie is an award winning musician who has been an integral member in a wealth of projects and bands . Based in Edmonton, he has performed at the Olympics, Place des Arts, The Smithsonian, with the Edmonton Symphony Orchestra, and a range of venues from house concerts to premier venues throughout Western Canada. With accordion as his primary instrument, he is equally versatile as a pianist and arranger. As a soundscape designer, he has composed for over 30 productions, and was a recent nominee for best sound design at the 2017 Elizabeth Sterling Hayes awards. Since 2013, Jason has been the Musical Director of 'Ze Punterz', for Rapid Fire's 'Late Nite Cabaret' at the Edmonton International Fringe Festival. Since 2011, has has been the lead musical curator for the Flying Canoe Volant festival held at la Cité francophone in Edmonton. Jason is a member of Captain Tractor, Le Fuzz, and can be heard along with a myriad of musicians including John Guliak, Marco Claveria, and the McGowan Family Band
Highlights
Music type:
Original Music
What this Artist plays most of the time
Genre:
Singer/Songwriter
Folk
Appeals most (but not limited) to:
With music appealing to young and old, Jason has performed in schools, senior centres, shopping malls, festival stages, concert stages, bars, pubs - the swath is wide!
Top Venues Performed/Exhibited *
Winspear Centre for the performing arts
2019/05
La Cité francophone - Flying Canoe Volant
2019/02
Banff Centre for the Performing Arts
2018/01
* Unverified
Activity
Events booked with Stagehand
0
Upcoming Events
No upcoming events