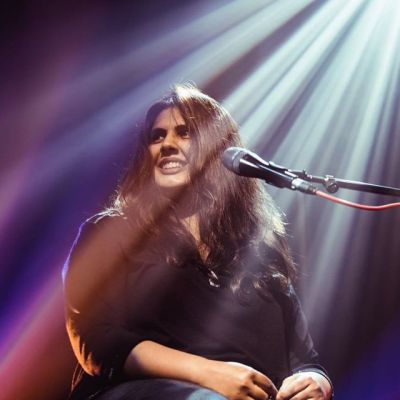 Music for Self-Empowerment & Hope
About
Staying rooted within traditional forms and honoring those while also bringing in experimentation, Shumaila Hemani sings Sufi epics in South Asian Sufi tradition compellingly.
Staying rooted within traditional forms and honoring those while also bringing in experimentation, Shumaila Hemani sings Sufi epics in South Asian Sufi tradition compellingly. (Rebecca Bruton, New Works Calgary) Even though music performance had been discouraged in her social settings, Shumaila Hemani followed her inner calling and came to Canada for her doctoral work in Ethnomusicology in 2012. That is when she began to pursue her childhood dream. Now an award-winning Alberta-based performer, Shumaila stays rooted within traditional forms. While honoring those, she also brings in acousmatic experimentation and emotionally visceral song-writing that blurs lines between singing and spoken word in Sindhi, Urdu, Arabic, and English. Shumaila Hemani's mesmerizing, multi-lingual vocals compellingly brings to life epics from her land of birth and upbringing, Sindh, simultaneously creating a feeling of emotional vulnerability and spiritual ecstasy. Calgary Herald described her music as "mesmerizing," and "emotionally nerve-striking" carrying "vocal virtuosity," and "expressing radically different inner existential visions" (2015). Hemani's lyrics express "a visceral emotionality and a deep musicality expertly ushering listeners into a place of contemplation and consideration," writes John Wright at Radio Airplay. Canadian soundscape composer: Hildegard Westerkamp lauded her soundscape composition, Mannat, as a rich piece that allows listeners to be immersed in the different music, chanting, and drones beautifully." "Listeners seeking a musically authentic expression of frustration and isolation will find Anticipation to be a prophetic and poetic composition, and with lyrics expressed in Urdu and English, the potential reception and impact of this song are massive." (John Wright, Radio Play) With her single Anticipating featured on Cross-Canada tour for Suicide Prevention Awareness & Hope (2020) and top mental health App such as Shine's Spotify playlists, she has given performances across Canada, including World Odyssey (2020), Femme Wave Festival (2019), Canada's Music Incubator (2019) the University of Alberta (2016), R.L. Stevenson Concert, Society for Ethnomusicology, the Banff Arts Centre (2015), Alberta Musical Theatre (2020), A Drop & a Turning, CJSW (2020), Society for Ethnomusicology (2020), New Music Edmonton podcast (2021), Ajam podcast: Music Without a Home (2021). Her song: Living with Purpose has been featured on blogs in Canadian Federation for Humanities and Social Sciences and The Conversation and stood #1 on Ethnocloud's World Music Charts between February to Dec 2020. Shumaila is also an Ethnomusicologist with a Ph.D. in Music from the University of Alberta. Her music also draws upon her research and performance- learning from master musicians in traditional genres from Muslim heritage with acousmatic compositions of South Asian soundscapes. Following the inspiration of legendary Sufi singers from Pakistan, including Abida Parvin and Ustad Nusrat Fateh Ali Khan, Hemani's heartfelt performances pushes gendered conceptions in South Asian music. The accompaniment of traditional South Asian rhythms on tabla and melodies of the reed-organ: harmoniums and Persianate zither, santur takes the audience into a meditative trance, instilling inner peace a deeper connection with the cosmos. Her award-winning piece, "Perils of Heavy Rainfall," brings together sounds of rainfall with poetry about the monsoon season by Sufi mystic Shah Abdul Latif Bhitai and soundscapes of rainfall in Sindh in 2020. The effect is a deep listening experience of South Asian tradition, and lyrics signifying human purpose, vision, and hopes that brings a sense of tranquility, healing, and introspection. Her upcoming releases include a soundscape composition commissioned by the New Music Edmonton: Once upon a time in Kobe, Japan. Following this release, with the Edmonton Arts Council's Cultural Diversity Award's support, Shumaila will release her upcoming album: Mannat (a prayer, a wish), in March 2021. My lyrics seek to decolonize intercultural conversations by resisting cultural essentialism and binary mindsets. My musical interpretations of Sufi music from Pakistan are indicative of how this repertoire has empowered me. Based on tales of love in the local folklore, these Sufi poems have enabled me to cultivate love as a tool for social justice. I hope to create a space for women to exercise their right to re-imagine their faith and belief and create new possibilities for being, living, and transforming the planet, says Shumaila.
Highlights
Music type:
Original Music
What this Artist plays most of the time
Appeals most (but not limited) to:
age 18-75 years; women; North America, UK, Germany, People interested in musical cultures of the world; people interested in spiritual sounds
Top Stages Played *
New Works Calgary's The Drop and the Turning Podcast, CJSW
2021/01
Alberta Musical Theatre's World of Stories
2020/12
Femme Wave festival
2019/11
* Unverified
Activity
Events booked with Stagehand
0
Upcoming Events
No upcoming events
Availability
I'm available for virtual performances from home. I have created productions for Alberta Music Theatre and Calgary's Community Radio, CJSW, and booked by a few other venues in February.