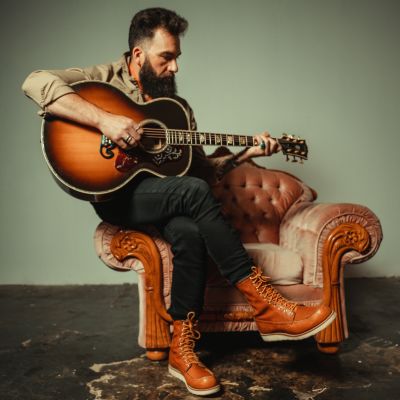 About
This barstool balladeer's conviction and authenticity place him firmly among a class of performer and songwriter that has earned and continues to seek his stripes.
The barstool balladeer: a charming and mysterious legend recalling better days, better songs, in better bars. A figure cloaked in experience, in heartbreak and all-consuming empathy, this trope seeks hope and light over all else. In today's imitative mass of simple melodies and bubblegum production - Ryan Langlois' rock-ribbed growl is an uncompromising breath of fresh air. Anthemic in delivery, Langlois recalls an impassioned Springsteen-esque leader, but one with decidedly more gospel and soul influences than his predecessors. He plays a character in and of himself, somehow weaving the fantastic and unimaginable with the humble and sincere. His songwriting spans roots, country, and Americana influences; often flourishing a simple idea into complex nuance. Formerly fronting the multiple-award-winning Boom Chucka Boys, Langlois is no stranger to the stage. Long renowned for his performances carrying unprecedented electricity, he is a master of his surroundings, regardless of the space. The songs hold heavy in a soft-seater venue of attentive listeners. With full accompaniment, he boasts an exhilarating experience of country-rock, folk, and storytelling, backed by Canada's best musicians. And now, after his extensive culmination of experience and wisdom, Langlois finds himself on the move with some impressive momentum for his solo endeavors. After securing a sizable development award as part of Project WILD Country (Alberta), he spared no expense investing every penny into growing his career. From creativity to a live show strategy, Ryan has built his audience and trajectory passionately, one song at a time. With soul-revealing, vulnerable tracks like "Light and Dark", we know that Langlois is as ambitious as he is raw. We can hear "This Is My Home" among the rubble of concrete side-streets and the alleyways of nostalgia, beckoning us both back towards the comforting and ahead into the unknown. These earnest laments are what keep us human and grounded, and Langlois knows them well. His conviction and authenticity place him firmly among a class of performer that has consistently earned and continues to seek his stripes. With a voice true and persevering, this barstool balladeer is bound for bigger stages.
Highlights
Music type:
Original Music
What this Artist plays most of the time
Genre:
Country
Americana
Rock
Appeals most (but not limited) to:
30+
Top Venues Performed/Exhibited *
Bo's Bar And Stage
2019/10
BreadMaker Vol 1 - The Pioneer On 8th
2020/08
* Unverified
Activity
Events booked with Stagehand
0
Upcoming Events
No upcoming events
Availability
I am available from September 2021 moving forward.