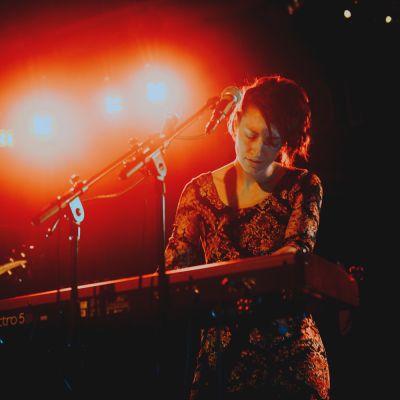 About
Silly, Fierce, Perky, Passionate Indie Pop
Lisa Anderson's silly, fierce, perky, and passionate indie-pop reflects the struggles and joys of embracing all life has to offer – the dark, the blissful, and the grey in between. Her pragmatic optimism and quirky humour weave through her lyrics to form moments of kinship with her listeners. In performance, Lisa accompanies her vocals with a keyboard, ukulele, and looper pedal, creating unique soundscapes that match her distinct view of the world. Anderson has captivated audiences around the world with her "beautiful and powerful voice," as described by Pablo Garcinuño of Spain's Los 4 Palos Blog. Her self-titled debut album was sponsored and promoted by Spain's nation-wide radio network Los 40 Principales. She has performed in Spain, France, Italy, Ireland, the Czech Republic, and Canada. Since returning to Calgary in 2015, Lisa was a top ten finalist in the 2018 Canadian Songwriting Competition, performed at the 2018 Big Winter Classic Music Festival, and was awarded an honorable mention at the 2015 Calgary Folk Festival songwriting competition. She regularly performs around Canada and will be touring Europe in June 2018 to promote her second album "A Hundred Lives".
Highlights
Music type:
Original Music
What this Artist plays most of the time
Genre:
Singer/Songwriter
Indie Rock
Pop
Appeals most (but not limited) to:
All ages
Top Stages Played *
The Ironwood Stage and Grill
2017/11
BIG Winter Classic
2018/01
The Palomino Smokehouse and Social Club
2018/02
* Unverified
Activity
Events booked with Stagehand
2
Availability
On tour in Europe until August 3rd, 2018. Afterwards available in Calgary, Edmonton, and surrounding areas.
Upcoming Events
No upcoming events