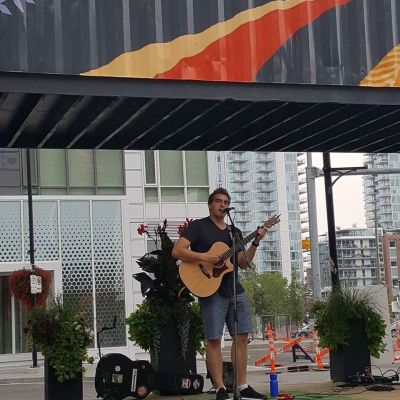 About
Grant Kanigan is a singer-songwriter who preforms solo; able to entertain small, large, to massive audiences through his original songs and eclectic mix of covers.
Grant Kanigan is a singer-songwriter and multi-instrumentalist who performs across Alberta bringing his signature style of hard-folk-rock from his recently released full length Album "Violence," as well as a large and varied collection of covers from the 70's, 80's, 90's and current radio hits. Performing with his Martin acoustic and the voice of an angel, Grant's music has been described as "the Foo Fighters covering Mumford & Sons," along with a sound all his own. Grant is available for anything from large scale arenas to small cafés, and is flexible for any type of performance necessary. If you'd like to see more about Grant, visit his official website, which has links to music, videos, pictures and upcoming performance dates, or click any of the featured link on his Stagehand profile.
Highlights
Music type:
Original Music
What this Artist plays most of the time
Genre:
Singer/Songwriter
Folk
Rock
Appeals most (but not limited) to:
Generation X, young adults, 90's fans, baby boomers interested in live music, people who like engaging with a live artist
Top Stages Played *
Half Hitch Brewing Company
2018/09
* Unverified
Activity
Events booked with Stagehand
4
Availability
I'm currently residing in Calgary, promoting my new album, and aside from dates I've already been booked, I would love to play your venue! I have my own transportation, and a portable PA; being a solo act, this makes it easy for me to set up and take down. For smaller atmospheres, I can even pay fully acoustic. I have a large catalogue of covers, as well as original music, so I can create a setlist that's perfect for almost any space!
Upcoming Events
No upcoming events