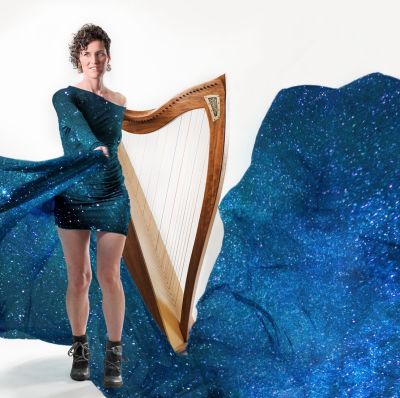 About
Diemm plays folk harp and sings. She plays for that one note, that one resonant chord that opens a cascade of 'yes' inside you. Her harp strings weave dense landscapes of rhythm and melody. Her voice is a bell, ringing you home. Diemm's debut album 'Ten Thousand Miracles' launches September 2018. This album is a tapestry of harp, double bass, and percussion, with the kind of vocal harmonies that give chills - and some genre-bending spoken word poetry, too. Her genre is Chamber Folk. The artist she's most compared to is Joni Mitchell, the poet she's most compared to is Rumi. Diemm is singer-songwriter Dawna McLennan. Diemm performs solo, as a duo, or as a trio. The full trio includes double bass or cello, percussion and of course Diemm's harp and vocals. She's performed previously under the name HarpPixie, playing House Concerts and Cafes around BC, and on festival stages like Starbelly Jam, Salmon Arm R&B,Tiny Lights Festival. She's been awarded grants from FACTOR Canada, Creative BC and Columbia Basin Trust, to pursue her musical visions. Diemm's concerts blur the line between performance and transformational offering. As a workshop leader and as a performer, Diemm holds hands with the Muse and bows to the power of music to align and illuminate. You'll leave lighter, clearer, and more inspired than when you walked in, as though you've sprouted wings. Visit www.diemm.ca for links, videos, and to join her mailing list.
Highlights
Music type:
Original Music
What this Artist plays most of the time
Genre:
Folk
Other
Roots
Singer/Songwriter
Appeals most (but not limited) to:
Typically, my audience is socially conscious, community oriented, holistic, creative, educated, self-aware, and into healthy living.
Top Stages Played *
Salmon Arm Roots and Blues Festival, Salmon Arm BC - as HarpPixie Trio
2016/08
Starbelly Jam Festival, Crawford Bay BC - as HarpPixie Trio
2016/07
Vancouver East Cultural Centre, East Vancouver BC - as guest performer with Small Town Artillery
2018/09
* Unverified
Activity
Events booked with Stagehand
0
Availability
Available in Calgary AB May 26, May 27 / 2018. Available in Kelowna June 1 / 2018. Available on Vancouver Island or Gulf Island June 7 / 2018. SEPTEMBER TOUR (Sept 7 - 26 2018) Lots of availability: Calgary, East Kootenays, West Kootenays, Okanagan, Salmon Arm, Vancouver, Lower Mainland BC, Gulf Islands, Vancouver Island.
Upcoming Events
No upcoming events