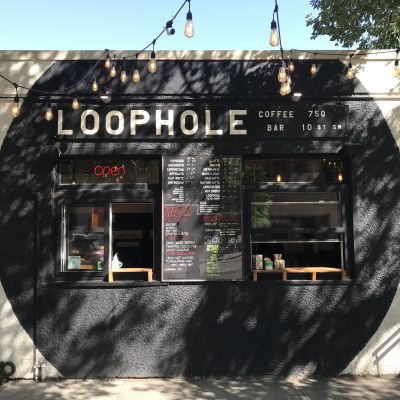 Upcoming Events
No upcoming events
Location
1040 8 Ave SW, Calgary, AB T2P 1J2, Canada
About
Loophole coffee bar is located in the heart of West downtown. Opened since December 2019, we made it our mission to provide art, culture and social link on top of the coffee and food service we offer. We are regularly hosting Art shows, live music performances, dance parties, movie nights, record shows and more!
The venue offers plenty of space, especially in our white cube Art gallery, which has been designed to transform into a live music performance room. The patio, located in front of the shop, is a great place to relax in the summer while sipping on a fresh drink. Performances can also be hosted there, under the shade of beautiful helm trees.
Visit : http://theloophole.ca/
Instagram : loopholecoffeebar
Capacity : 60
Liquor license : YES
Minors allowed : YES
Food service : YES
Sound system : 4 Channel P/A, Microphone and stand upon request.
Highlights
Supported arts:
Live Music, Performing Arts, Visual Arts
Supported music types:
Original Music
In-House sound available:
Yes
Special event liquor license allowed:
Inquire
Description
Audio/Visual
4 channel PA system
Activity
Events booked with Stagehand
6