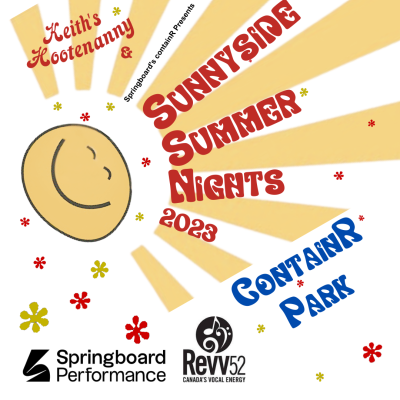 Upcoming Events
No upcoming events
Location
1020 2 Ave NW, Calgary, AB T2N 1T6, Canada
About
Calling all established and up & coming musicians!
Join us at Sunnyside Summer Nights, where warm breezes, cool drinks, and a vibrant, happy crowd await.
Showcase your talent with our top-notch team.
Leave your performance with promotion-ready video, audio, and print assets to help you book your next gig!
Experience the fun of a Sunnyside Summer's Night and continue your exciting musical journey.
Who we want
Each night we have four performer profiles - please read, then signify which act is best suited to your style and music
Opener – We're looking for a single or duo act that is happy to play before the festivities begin, to create a welcoming mood as the audience files in. (0:20-0:30)
1st Act – As the first introduced act after the land acknowledgement and greeting, you'll continue to set the stage with an energetic or compelling set. Looking for single, duo, or small ensemble here. 0:30 set
2nd Act – Your group is in this spot to mix it up a bit. Introduce your unique sound to an audience that, perhaps, isn't your typical audience. Looking for acts that are from outside of the western tradition, or have a unique assembly of instruments – so for this spot we're looking for musicians and music that's informed by culture, or traditions outside of the norm. 0:30 set
Headliner – OK, you've been around a while, and want to flex your muscles a bit, or get some extra stage time before your next gig. We're looking for an experienced band that knows how to communicate to the crowd, and, at the very least, trigger some head nods, leading to foot taps, and perhaps a little dancing on the boards. You know how to transport the crowd to funsville. Because you've sent a crowd there before
Make sure you tell us which spot you're best suited to, and why. We'll get back to you before mid June with booking info.
What you get
1 - You'll have a great experience from the soundcheck on. Bring your amps and amp mic's if you need them. Otherwise, we supply all the backline. Your drummer should bring what they typically travel with.
2- Each band that performs will receive a complete digital Keith's Hootenanny (K-Hoot) Performance Pack, marketing assets you can use for future promotion. Each KHoot Performance Pack includes:
Digital still photographs of your performance, provided in both print-ready and social media resolution
Produced videos of at least 3 songs performed at SSN, mixed with sound off-the-board. These videos will be titled with your band's name, the name of song, and month/year of the video, and your brand identity/logo, and you will get full video.
Edited pre-performance audio interview – podcast ready, completed 1 week before your performance
Raw sound files from the performance
You will be granted an unlimited license for use and reproduction of all assets provided by Sunnyside Summer Night
All of these assets will be provided in a zipped folder you may access via Google Drive within 2 weeks of your performance
3 - Bands will receive 100% of proceeds from tip jars located at the beer garden that evening and via Stagehand's tipping app, accessed by the audience via QR codes placed in tent cards at each table and in signage around ContainR park's perimeter
4 - Headliners will receive a $100 Honorarium
5- Each band member receives one beer ticket on site
Evening Program
We have a very strict schedule because we're an outdoor venue. Keeping to this schedule is critical to the success of the evening, and our acts need to commit to this timetable.
4:00-5:00 All bands arrive. Move in for sound
5:00-6:30 Sound check. Hard Stop at 6:30. Miss the soundcheck, you miss your performance
6:35-6:55 Opener (20 mins)
6:55-7:05 Land Acknowledgement, Welcome to SSN and lineup introduction
7:05-7:35 Act 1 (30 min)
7:35-7:45 Switch Act 1-Act 2
7:45-8:25 Act 2 (30 min)
8:25-8:35 Switch Act 2-Headliner
8:35-9:20 Headliner (45min)
9:20-9:30 Goodnight Extro, Announce next week's lineup, and thanks to performers and sponsors!
It's a great evening that you and your band can make even better!
Highlights
Supported arts:
Live Music, Performing Arts
Supported music types:
Cover Music, Original Music
In-House sound available:
Yes
Special event liquor license allowed:
Yes
Description
Stage
Raised Stage, outdoors, with some stage coverage.
Room
Outdoor wooden stage in Container Park situated beside LRT Station in Sunnyside. Due to neighborhood sound considerations, we shut down performances at 9:30 PM
Audio/Visual
All sound supplied: Front of House Stage Monitors, Microphones, Microphone stands, and cabling. Bring your own amps etc if you do not DI.
Activity
Events booked with Stagehand
35